In the two years since the outbreak of COVID-19, a large-scale experiment in online education has been launched around the world, and online teaching has become an important part of school teaching. Our school has always carried out online teaching flexibly when necessary according to the epidemic situation, and strived to ensure the quality of online teaching. However, in the process of switching from offline teaching to online teaching, how to quickly realize the proficient application of network technology, how to better manage online classrooms, conduct teacher-student interaction and evaluation feedback, and monitor students' online learning status in real time, there are many challenges. With the large-scale development of online teaching, it has become increasingly prominent.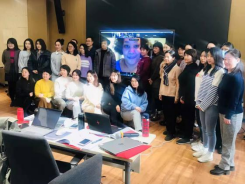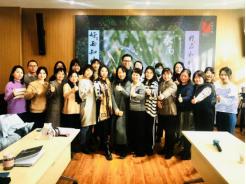 In order to solve these problems, our school organized a total of 30 front-line teachers from various departments to participate in the international training course "Enhancing Online Teaching Strategies" organized by Manplo Education Company. This training adopts live teaching, and offline teachers are grouped into 6 different professional groups for cooperative learning. It mainly includes modules such as live teaching, group course practice, after-school homework feedback, and classroom group presentation, which not only ensures that teachers and professors can Sufficient feedback and exchanges during the training process will also help each group of teachers to conduct in-depth discussions within the group to the maximum extent, and provide a guarantee for the group members to conduct more in-depth online teaching discussions on professional content.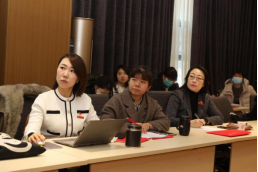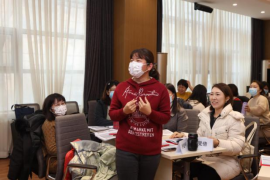 Professor Johnson, an expert from the School of Education, DePaul University, USA, participated in the whole process of the research and development design and evaluation seminars of this training course, and gave a live remote teaching. Professor Johnson has taught at DePaul University for many years. He is an expert in online teaching curriculum design, research and development, and school information technology support. He has very rich experience in front-line teaching and training. During the online live broadcast, Professor Johnson introduced the importance of reverse design in teaching design to the students, and used specific cases to show teachers the steps of reverse design, instructing students to carry out the teaching design practice of this professional course, and shared the teaching experience in American schools. The frequently used network data platform and achievable functions, combined with online teaching strategies, ensure that classrooms of different capacities can achieve more interaction between teachers and students to the greatest extent, capture students' online learning attention, and dynamically monitor students' learning status , to ensure the effect and quality of online teaching.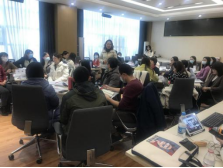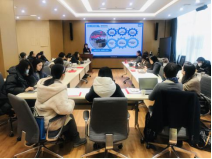 During the practice of group projects, teachers actively discussed and communicated, and tried to apply online teaching strategies to their own teaching design. Teachers stimulated more design ideas through the collision of thinking. Professor Johnson was deeply impressed by everyone's concentration, teamwork ability, communication ability, modesty and eagerness to learn. Every classroom presentation has been highly praised by Professor Johnson, who is delighted for the teachers' research spirit and meticulous design.

On the last day of the training, each group of teachers selected representatives to report on the reverse teaching design. Each major combined the training content, transformed what they learned in a timely manner, and applied it to the teaching design of the major, which was brilliant.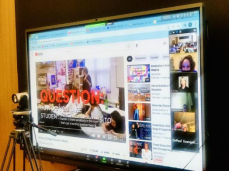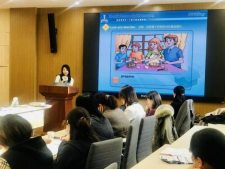 In the course, everyone also learned how to better present Chinese culture in the distance teaching design, radiate the advantages of online teaching strategies to the "Belt and Road" distance international teaching, and make breakthroughs in the course design ideas of Chinese and Western comparison and mutual learning of civilizations. It eliminates the original bottleneck of cognition and brings more changes and vitality to teaching.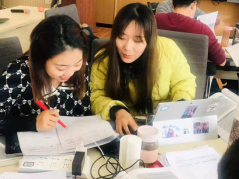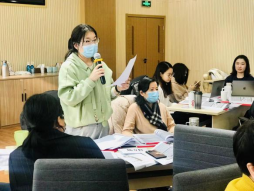 Teacher training experience
Reverse instructional design is a good instructional design method. Reverse pedagogy first considers the final outcome that students want to achieve through the teaching of the course. In order to achieve this result, teachers should design overall goals and sub-goals in the teaching process, and then design teaching content and teaching activities to gradually achieve the overall goals.
In the process of learning and task practice, our teaching theory level and practice level have been greatly improved. During the whole training process, the team members actively cooperated and participated actively. I also exerted my personal role to the extreme, thus showing an ideal team learning state and effect.
This training changed my mindset. As a teacher, when the teaching content is relatively stable, the first thing to do is to innovate the teaching design. Especially online teaching, how to use appropriate and rich teaching forms to carry teaching content, bring students a different teaching experience, lead students to gradually improve, and achieve teaching goals.
We should carry out "teaching-learning-evaluation" integrated teaching, carry out reverse teaching design, and pay attention to classroom evaluation. It is necessary to strengthen the innovation of online and offline mixed teaching practice, make full use of the functions and functions of Internet online teaching, and continuously promote the innovation of offline traditional teaching, so as to ensure the unity of teaching methods and teaching objectives in online and offline mixed teaching practice.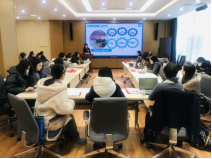 In the future teaching, I believe that teachers can continue to practice, better apply online teaching strategies, develop online and offline hybrid classrooms, and achieve fruitful results in teaching practice!